Let's Connect
Whether you're interested in one of our properties or services, we look forward to talking with you.
You can reach us at the addresses below, and your inquiry will be directed accordingly.
Email: info@fenwaysports.com
Address: 98 Brookline Avenue, Boston, MA 02215
Associate Program
The Associate Program is intended for recent college graduates and young professionals who are interested in pursuing a career within the sports and entertainment industry. Associates are selected to take part in one of FSM's five primary business functions: Sponsorship Sales, Special Events, Sponsorship Consulting, Events and Partnership Solutions. Each Associate will work alongside FSM's Senior Management teams, playing a vital role in the daily operations of their respective department while also taking part in comprehensive individual development projects. The ultimate goal of the program is to provide a platform that can help each Associate land a full-time role within the industry that is commensurate with each participant's career goals and skillset.
The Associate Program begins in mid to late June, running for a maximum of 12 months, with a minimum commitment of 9 months required. Associates are selected based on their experience, academic achievements, extra-curricular activities, and FSM's business needs. The majority of Associates are based in the Fenway Sports Management main offices, located in Boston across the street from Fenway Park, with 1 Associate spot supporting our Sponsorship Sales efforts out of the FSM NY Office, located in New York City.
Recent Graduates of the Associate Program have moved on to full-time positions at the following organizations: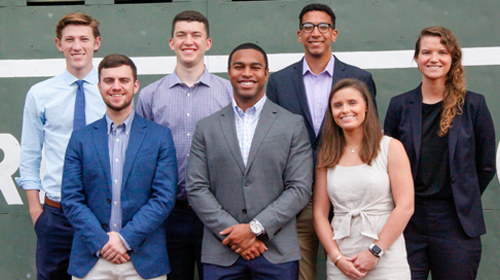 AMEX Global Business Travel
ANC Sports
Ascendent Sports Group / Relevent Sports
Boston Celtics
Boston College
Boston Red Sox
Chicago Cubs / Marquee Sports & Entertainment
Fenway Sports Management
Harris Blitzer Sports & Entertainment
Howard Hughes Corporation
LeadDog Marketing Group
Los Angeles Rams
Madison Square Garden
Manchester City Football Club
New Balance
New Jersey Devils
New York Mets
New York Red Bulls
New York Yankees
Omaze
Roc Nation Sports
Replicon
Scout
Steward Health Care
TD Garden
TopGolf Media
Click here to learn more about the specific roles within the Associate Program.
The application window for the 2023-2024 Associate Program is now CLOSED. Should you have questions, please email associateprogram@fenwaysports.com and someone will respond within 1-2 business days. Thank you!