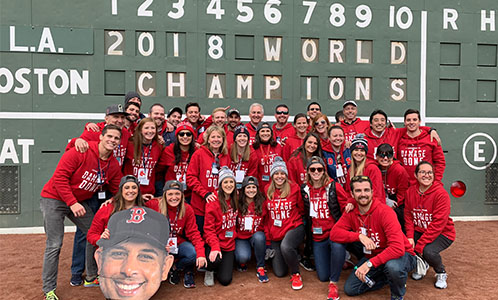 Opportunity Makers
Fenway Sports Management (FSM) is a global sports marketing firm that specializes in partnership sales, brand consulting, and the creation of unique and memorable events and experiences.
FSM is a part of an elite family of properties that includes some of the most storied names and venues in all of sports, including the Boston Red Sox, Liverpool Football Club, New England Sports Network, and Roush Fenway Keselowski Racing.
We pride ourselves on building long-lasting, trusted relationships with iconic brands. Our vast experience, focus on innovation, and unparalleled service create impactful results and value for our partners.
Our Leadership

FSM's experienced, passionate leadership team lives by the motto that when focused on achieving the strategic goals of our clients, anything is possible. We are motivated by the power of teamwork to achieve our clients' visions – a direct parallel to the approach taken for the historic comebacks and great victories of our own favorite teams.

At FSM, we put our clients and partners first.
Our Team
Greg Abdallah, Manager, Special Events
Courtney Albin, Director, Sponsorship Consulting
Samantha Barkowski, SVP, Strategy & Growth
Dave Beeston, Co-Head, FSM
Mykel Bigbee, Jr. Staff Accountant
Liam Brown, VP, Sales
Rachel Brown, Account Executive, Sales
Allison Bucci, Sr. Manager, Business Development Sales & Service
Maren Butler, Analyst, Insights & Analytics
Victoria Centorrino, SVP, Finance
Jonathan Chin, SVP, Sales
John Clark, EVP, Chief Business Development Officer
Cora Climo, Manager, Consulting & Events
Kristen Condo, VP, Partnership Solutions
Jenna Coviello, Sr. Coordinator, Events & Experiences
Grace Detwiler, Manager, Consulting
Jamie Farah, Graphic Designer
Ryan Fischer, SVP, Managing Director, Sales
Katie Gauger, Sr. Director, Consulting, Events & Experiences
Connor Glenn, Director, Sales
Austin Greenstein, Coordinator, Business Development
Adam Grossman, EVP, Chief Marketing Officer
Tim Heintzelman, VP, Creative Services & Content
Steve Hilbelink, Director, Accounting
Tom Howard, Director, Sales
Julian Hubbard, Jr. Graphic Designer
Kristina Hudak, Sr. Coordinator, Special Events
Kelly Kaufman, EVP, Business Operations / Chief Financial Officer
Sam Kennedy, Co-Head, FSM
Susie Korzec, Graphic Designer
Chris LaCamera, SVP, Sales
Jenny Langerman, Coordinator, Partnership Solutions
Cole Leff, Account Executive, Sales
Mark Lev, President
Marc Llanto, Manager, Consulting & Events
Lucas Malloy, Special Assistant to Co-Head, FSM
Fernando Marchan, Coordinator, Events
Shamar Martin, Sales Representative, Special Events
Paul McCarthy, Director, Strategy & Growth
Keon Mesghali, Research Analyst, Strategy & Growth
Brett Miller, Director, Special Events & Executive Director, Wasabi Fenway Bowl
Megan Miller, Manager, Events & Experiences
Teddy Mitropoulos, Head of Special Projects
Sam Nance, Coordinator, Partnership Solutions
BriAnne Newman, VP, Consulting, Events & Experiences
Caitlin O'Reilly, Sr. Director, Business Operations
Ben Percia, VP, Sales Planning & Operations
Amanda Petrillo, Sr. Club Counsel
Brigitte Rec, Sr. Graphic Designer
Flint Reilly, Sr. Director, Global Partnership Sales, Americas, Liverpool F.C.
Nesta Richardson, Coordinator, Sales, Americas, Liverpool F.C.
Janelly Rodriguez, Executive Assistant & Office Manager
Greg Rooney, Director, Sales
Erica Roy, Coordinator, Corporate Partnerships
Michael Russell Jr., Director, Sales
Will Shames, Director, Brand Strategy & Business Development
Miles Shipp, Research Analyst, Strategy & Growth
Kate Pratt Theobald, Head of Sales, Americas, Liverpool F.C.
Chris Valente, VP, Sales
Amy Waryas, EVP, Human Resources
Teddy Werner, SVP, Strategic Operations